Happy Patron Saint Festivals of Citalá
November 30 – December 8
Beloved town of citaltecos, may the all-powerful God and our patron saint, the Immaculate Conception of Mary, protect our homes, bestow multiple blessings upon us, and move us forward united always for the good of our municipality.
—José Lorenzo Valdivieso Galdámez, Mayor of Citalá

Dogma of the Immaculate Conception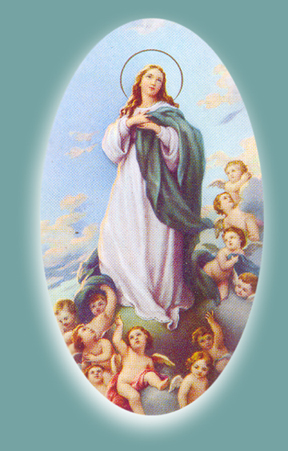 The Holy Virgin Mary, because of her dignity as the mother of God, was, from the first instant of her conception, free from the stain of original sin. This supposes the absence of sin in Mary, the presence of sanctified grace, virtues, and talents, and the absence of bad inclination. Therefore she is also called Immaculate One.

Pope Pius IX, in the papal bull Ineffabilis Deus of December 8, 1854, solemnly defined the dogma of the Immaculate Conception of Mary in these words:

"We declare, pronounce, and determine that the doctrine that supports what the Holy Virgin Mary, in the first instant of her conception, was, through the singular grace and privilege of the omnipotent God, in the foresight of the merits of Jesus Christ, the Savior of mankind, free from the stain of original sin, has been revealed by God and, therefore, ought to be firm and constant in the beliefs of all the faithful."

The "Pure Conception" is a privilege and gratuitous talent, granted only to the Virgin and no other creature, in view of the fact that she had been predestined to be the Mother of God. It is a special and extraordinary favor, considering, according to the law, through her conception within a human family, she should have incurred the contractions of original sin for, then, being liberated like other men. But this did not occur, thus in Her was prophecy fulfilled in a clear manner.

Belief in the Immaculate Conception of Mary has been a constant among the first Christians, the fathers of the Catholic church and the Catholic community up to the present time.

The Church was accustomed to celebrating a holiday of the Immaculate Conception from the fifth century in the East and from the seventh century in the West.

Popes Sixtus IV and Alexander VII, among others, prohibited teachings contrary to the doctrine of the Immaculate Conception.

The Immaculate Conception of the Virgin Mary is a marvelous mystery of love. The Church has been discovering it little by little, through the passage of time. Many centuries would have to pass before it was defined as a dogma of faith.

Mary is an anticipated sign: of cleanliness, of beauty, of sanctity, of perfection, of abundance, of new life, of Easter victory. It is an anticipation of the ideal human, of the project that God had dreamed for man. A model, therefore, for every human being, for every believer, for the Church, for humanity. That which we fervently dream of and wish for is possible, for in Mary has it already been fulfilled.